July 25, 2022
725: Black Light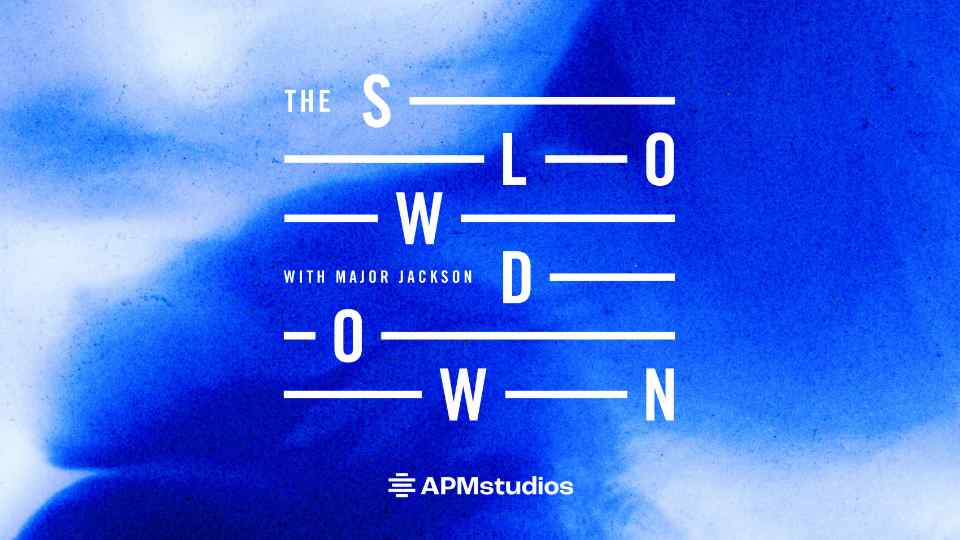 July 25, 2022
725: Black Light
Transcript
I'm Nate Marshall and this is The Slowdown.
Have you ever had a long-awaited reunion? Maybe it was a high school or college reunion at an appointed interval, or maybe it was just a chance meeting in a public place with someone from a past version of your life. I know I have. When I travel back to my hometown, Chicago, I joke that I must be prepared to see anybody, from any part of my life, anywhere.
That's part of the weird magic of hometowns, I guess. I imagine when people see me, I am no big surprise. The bookish kid who wrote poems is now the bookish professional poet. Sometimes though, you see someone in a moment or in a circumstance that surprises you. Today's poem captures one of those moments.
---
Black Light
by A. Van Jordan
Our bodies cast a shadow of one
body under a black-bulb pulse
in your mother's basement. Light, even

when it's black, moves faster than
youth or old age; it's the constant
in our lives. But I remember when

I thought your house—always ready
for a party, even during the week—
was the fastest element in my life.

Toenails, lint, teeth,
eyes—everything was holy
under the glow. I suspect 

even my bones radiated
when we danced, which was always more
of a grind than a dance.

Whether the song sung came
from Rick James or Barry White,
we called what we did in the coatroom

dancing, too: My hands, ultraviolet
under your dress, but innocent. We
were only kids, after all,

I was 16 and you were a woman of 18.
Already, we knew how to answer each other
without asking questions, how to satisfy by seeing

what nearly satisfied looked like
in each other's face. This all before
I ran out to sneak back into my mother's 

house in the middle of the night.
But, now, it's eight years later,
you're walking, it seems, so I offer

you a ride. And you look in and smile.
And when I see you I wonder
what would have happened

if we had stayed in touch. I have to get back
to work the next morning in DC,
a five-hour drive; it's near dark

and I want to get on the road before night
falls completely, but I stop anyway.
It's been too many years, 

and I mistake your gesture.
Then I realize you
don't really recognize me,

until you back away and turn
on your heel.
Then a man with a Jheri curl

and a suit that looks like its woven
from fluorescent lighting 
walks up and looks at me 

like I wasn't born in this town,
and for the first time in my life,
I question it myself. He walks up as slow

and sure as any old player should on Sunday night.
While walking away, you two exchange 
words. You don't look back. But

we see each other in our heads—aglow,
half naked—under our black-bulb pulse
in your mother's basement. Given a diadem

by the lucid night and the street lamp's 
torch, the man wearing the fluorescent 
suit casts a broad shadow

like a spotlight into which you step.
Maybe he's the reason we're here tonight
beneath these dim stars, casting

a light true enough…finally,
for us, after all these years, to see each other.
"Black Light" published by W. W. Norton & Company, Inc. in QUANTUM LYRICS © 2007 by A. Van Jordan. Used with permission of the publisher, W.W. Norton & Company. All rights reserved.