February 24, 2023
821: I Have No Idea What's Going to Happen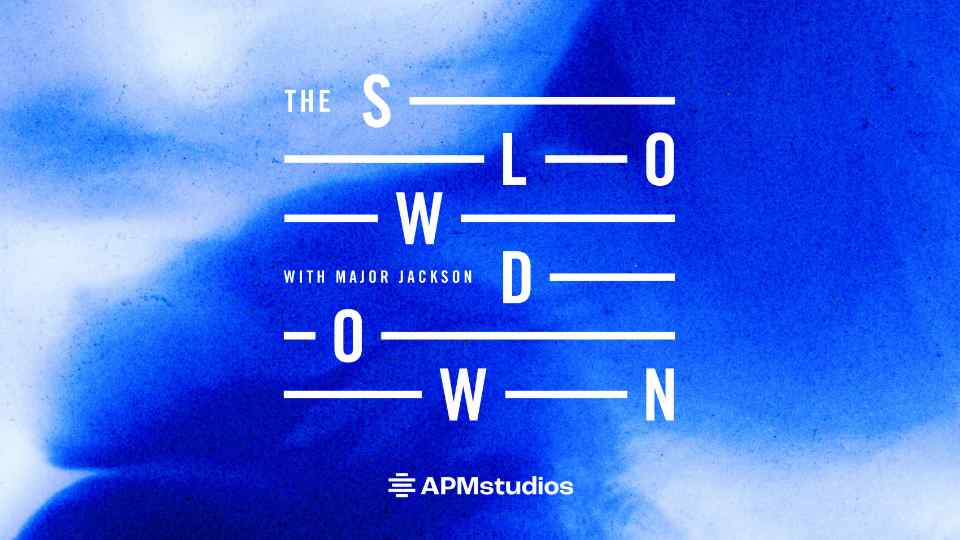 February 24, 2023
821: I Have No Idea What's Going to Happen
Transcript
I'm Major Jackson and this is The Slowdown.
So, get this. I'm walking down 2nd Avenue approaching St. Marks Place in New York City. It's a bright, sunny day made even brighter by the Flamenco-costumed couple up ahead. They seem to be rushing to a rehearsal, but out of nowhere, she stops, breaking their joint strides, and says "Here!" then drops her portable parquet flooring. In an instant, they are in a full-on performance, he fingering the frets of a classical guitar, moving deep into a song full of moans, and she clapping and circling her impromptu stage like a matador studying a bull.
The clapping comes lightning fast, until she steps up and stomps into a patterned rhythm right where her hands left off. When she fans her fingers sinuously above her head then dramatically snaps the ruffles of her dress, it is a public spectacle of such passion, a red wave of energy ripples through those of us encircling them. I was mesmerized.
They weren't busking. I couldn't find a jar or guitar case to toss dollars. Nor a sign with a #hashtagged Venmo account. Either they were there to exorcize that particular corner of New York City, because that was how intense their outdoor concert was, or simply they desired to create a "happening" where the only admission fee was our attention.
I've a mental catalog of these moments, where I happen to be on the other end of someone's talent. As the formal walls of presentation fade, I feel my, and their, human agency more fully on display.
Like that one evening my friend Josey, mid-dinner, broke into a Verdi aria at a long, outdoor table of friends lit by candles. Or when a plumber, working beneath my sink, sang the best rendition of Otis Redding's "I've Been Loving You Too Long" I've ever heard. In each instance, I was transformed by the encounter. Something outside the realm of my daily routine, some marvelous giftedness, giving me a different perspective on my day.
Today's understated poem shows us how impromptu encounters with art, those that are unforeseen, disruptive in the best sense, have us dwell outside time and exist within the spirit of the maker, then return us to our days with a new purchase on our lives.
---
I Have No Idea What's Going to Happen
by Justin Marks
I wanted to be home
but stopped instead
and sat on a bench
I sat for a long time
not really thinking
though thoughts would
come and go
I wasn't looking
at anything in particular either
I was watching
It was March
Still cold, foggy
Had been raining
An older man sang
in Spanish to a woman
walking next to him
The woman joined him in song
eventually
And then they laughed
and talked
I understood
none of it
but in the silence reborn
after they passed
I sat
The fog began receding
I'm still sitting there
Waiting
"I Have No Idea What's Going to Happen" by Justin Marks from IF THIS SHOULD REACH YOU IN TIME © 2022 Justin Marks. Used by permission of Barrelhouse Books.