March 29, 2023
844: A Ruin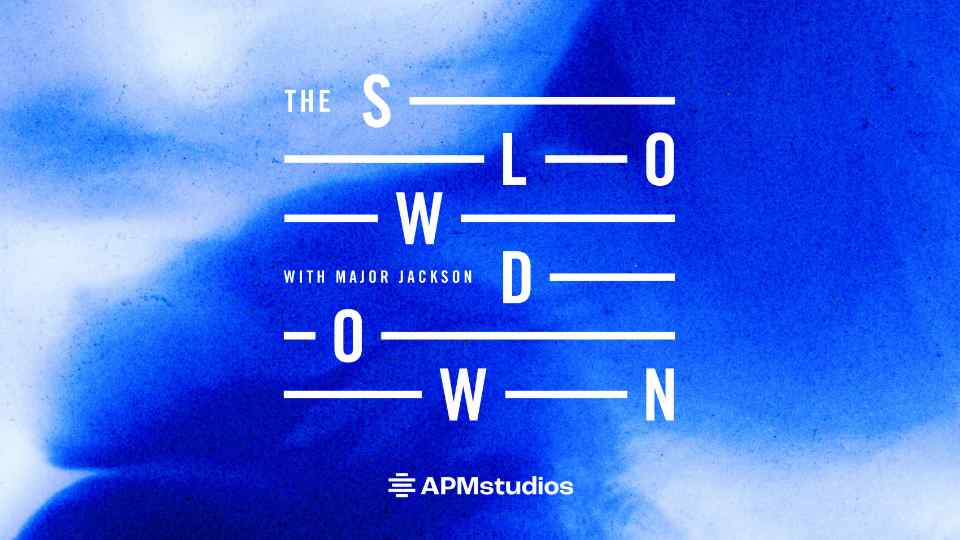 March 29, 2023
844: A Ruin
Transcript
I'm Major Jackson and this is The Slowdown.
Last year, I visited my old neighborhood. I'd flown in to receive an alumni award from Central High School of Philadelphia. Go Lancers! I have not lived in Philly in many years, but I've maintained a long affection for the city of my birth; so whenever I'm in town, I prefer to rent a car and idly drive its streets.
I almost always drive along the glittering Schuylkill River, almost always return to the majestic Philadelphia Museum of Art to view the works of Elizabeth Catlett, Marcel Duchamp, Cy Twombly, and most definitely return to patronize my favorite patisserie in all the world — a low-ceilinged, cozy room with metal café chairs and small round tables hidden off Chestnut Hill's cobbled Germantown Avenue.
Whenever I enter The French Bakery (yes, that's its name), that rich buttery aroma, those fresh baked goods, coax me further into its haven. My mouth instantly waters at the sight of pastries and fresh bread beneath the glass case. During wintry days, the oven warms both the small restaurant and its loyal customers who patiently wait in line. As a teenager, some friends and I would pretend to do homework in a corner after school, while drinking hot chocolate and eating croissants.
On this most recent trip, regrettably, I was greeted with a locked door; inside the lights were out and the glass case emptied. A pang of sadness overcame. I experienced the same feeling when one of my favorite jazz clubs shut down, and when I reached the entrance of another old favorite eating establishment. There, a security guard asked if they could help me. I said I was here for brunch. She looked at me with pity and said, "Honey, I'm sorry, but this place has been closed as a restaurant for over ten years.
By watching the landscape of Philadelphia change, I've learned to read for the hidden history of cities and towns I visit now as a tourist. It makes me wonder: What ties us so strongly to a place? Cities shift; they grow, and they decline, an inevitable fact. I did not realize how much I needed Philly to preserve itself, and in a way, to preserve me. Each time I return, a part of myself disappears, which is maybe as it should be.
Today's poem understands the extent to which our memories are interwoven in the fabric of a place.
---
A Ruin
by Paul Muldoon
It might have been a gristmill, a dilapidated granary, or grange
I first drove by some sixty years ago
and, with my little eye, espied
through a doorframe the tousled ferns
and red-haired dockens
of kids my own age sent out to play in the snow,
their snowballs
so specific in the sprawl.
Windowless now, roofless, tucked

under the first, sheltering hill of a range
that ran all the way to Mexico—
a country into which we still hoped to ride
hell-for-leather, still hoped to adjourn
after the stickup—this ruin betokens
not only the slo-mo-
mowing of a meadow for a shopping mall
but the fate that would befall
the many tagged and retagged

over those sixty years. The landscape is so marked by change,
the bungled peace process, the shoddy bungalows,
the wind farms taking us in their stride,
so marked by all the turns
things have indeed taken
for kids now summoned back from playing in the snow
the nettles almost as tall
as its dividing wall,
a ruin seems the only thing intact.
"A Ruin" by Paul Muldoon from HOWDIE-SKELP, © 2021 Paul Muldoon. Used by permission of Farrar, Straus and Giroux.