May 5, 2023
871: Flesh ("You in your ecstasy of coffee")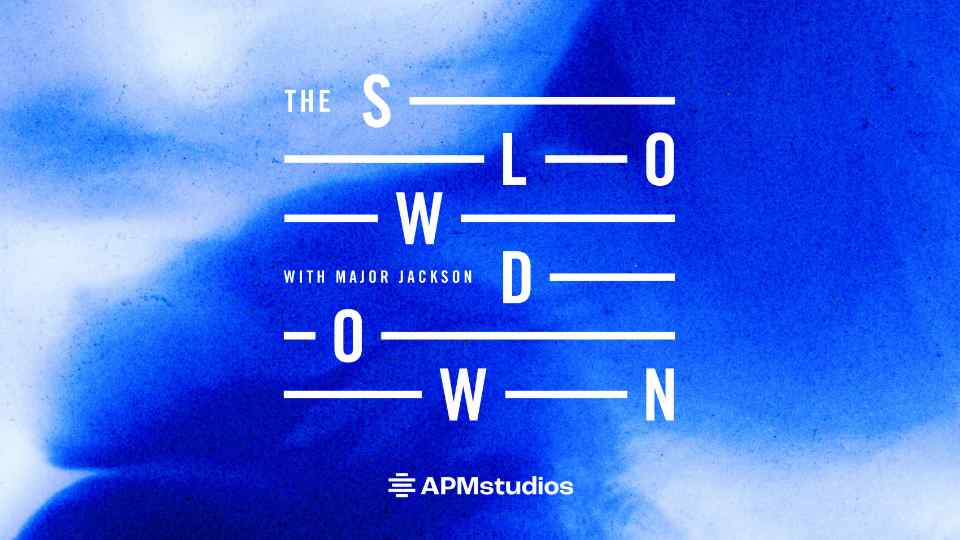 May 5, 2023
871: Flesh ("You in your ecstasy of coffee")
Transcript
I'm Major Jackson and this is The Slowdown.
In Vermont, we like to say, we have three seasons: winter, summer, and autumn. Spring is virtually nonexistent; the cold temperatures hang around well past the spring equinox. And then it's mud season, really an extension of winter, when the earth thaws with runnels of melted snow. Yet, if another cold snap comes along, tire ruts freeze. Before you know it, the frozen ground jolts you into a ditch. April is the cruelest month, sure, because winter is like an ex that lingers way too long after the breakup.
So when summer arrives, I run as fast as I can into its lushness. I am making new memories with family and friends that involve nights of alfresco dining, remote beaches, mountain ranges, and sun-drenched cocktail parties. Summer is the season that beckons most my senses; all that fruit bursting its wild colors: strawberries, apricots, and peaches. Whereas winter feels interminable, I am most aware summer's bounty is numbered, finite.
From movies like Do the Right Thing to Adventureland to Midsommar, summer is Hollywood's favorite season; its beginning, middle, and end tidily frame a narrative, and its high temperatures serve as backdrop to any plot's theme. In summer, we star in our own movie. We travel; we journey. Our friendships deepen. Summer is the season in which I know I am most alive and emotionally open. I welcome adventures that open my body and heart. Biking country roads or hiking mountain trails, my brown skin glistens with the humming of the days. One must have a mind of summer.
Today's vibrant poem reminds me how summer increases our thirst for living in the world. We feel life running from the ground and into our bodies, as if we are walking into paradise's front door.
---
Flesh
by Deborah Landau
You in your ecstasy of coffee me all amped on juice
an ooze of sunshine a foil of water a concordance
two waves in sync making a larger bright
it's unseasonably warm again nothing will bloom
the trees blown way ahead of schedule and we never
kissed not even once despite the come-ons of summer
scented with rain, lilacs in the deli tempting to send me over the edge
as if we could rinse everything and be clean again but no—
Thursday 4 p.m. the city can be beautiful
when it wants to	     stands around so photogenic
by the boat pond, lucent doorway of the day
beams us through, pine needles, puddles, tussle
on the sidewalk, a pigeon or two—		      streaming by
here come the minutes exposing themselves
and there they go	      what is real?
June keeps on flaunting its meadow of music, its drink
let's leave our apartments and go to the park
it's a festival we want a popsicle some honeydew a break
let's go out into the music flowingbroadly now through giant speakers.
The success of friendship let's drink to it—
Hello emptiness that is coming it will engulf 
and then, a freighted woman I'll fall back into my hole,
goodbye.	              My body will never be satisfied.
But here in the preheadache seasonal glitter,
first burst of summer, still the thrill of it, the heat—
"Flesh ('You in your ecstacy of coffee')" by Deborah Landau from SKELETONS © 2023 Deborah Landau. Used with the permission of The Permissions Company, LLC on behalf of Copper Canyon Press.