May 17, 2023
879: For the Poet Who Is Your High School English Teacher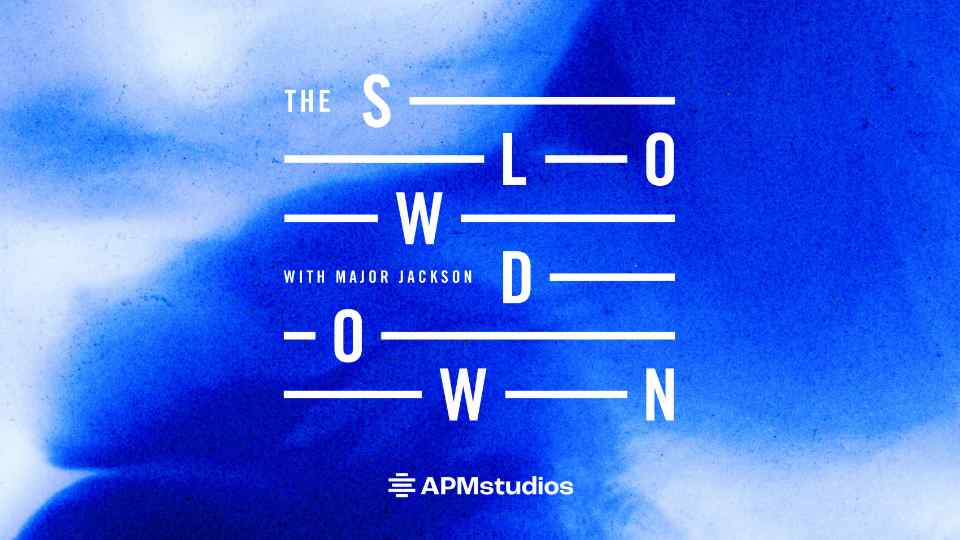 May 17, 2023
879: For the Poet Who Is Your High School English Teacher
Transcript
I'm Major Jackson and this is The Slowdown.
This episode is one big shoutout. I'm sending special gratitude and thanks for all the Language Arts and English teachers, those who are undaunted, who welcome the challenge, who revel in the task of bringing poetry into the classroom. They geek out on line breaks and line endings. They introduce students to iambic pentameter then help them find their own rhythms; I'm talking teachers who build students' vocabulary and their confidence, teachers who model critical thinking by asking questions rather than assert one correct answer, who realize conformity is the enemy of poetry.
This episode is for the teacher who gives students opportunities to exist in their feelings so that their minds embrace texture, so that they learn to speak their emotions and live in their bodies, fully, a self-assurance no one can take away from them.
They turn libraries into cafes where tea is served, where a 4th grader reads an ode about their Nana, and where their friends learn to snap their fingers in approval. Shoutout to the high school teacher who organizes field trips to see funny poets, serious poets, most importantly, alive and breathing poets.
They teach students ways to talk about the world by pointing to the things in the world, and thus, impart ways of seeing. They teach pattern-making through poetic form, then how to break the rules when a revolution of the heart needs to occur. They invite a long-lasting love for language.
Shoutout to teachers who are poetry proselytizers, who know a child's inwardness needs protection and care, who set poems before students to show poetry's power to answer confusing moments. They discuss deferred dreams, roads not taken, and America singing.
Over the years, I have visited their classes. The laughter they share with their students around a poem binds them forever. Their commitment to both our culture and their student's growth is unparalleled. Teachers of poetry know it's about getting lit and finding one's voice.
Today's poem honors the teachers among us who are also poets, whose passion for poetry helps students to reimagine and change their world.
---
For the Poet Who Is Your High School English Teacher
by Gary Margolis
Understand she's standing in front of you
taking attendance with lines
in her head.

Looking for possible line breaks in her
lesson plan. Don't think enjambment
is too big a word for you.

She doesn't. She won't talk down to you 
and will have you look up what you don't
understand.

Know she won't care if you stumble
on another word instead.
In getting there. Call it the next

word in store for you.
What she found before you.
Last night. When she couldn't sleep.

When she was thinking of how
to teach how thrilling it can be
when a word takes a breath

and you find there's more than one
way to be in the world. Two 
possibilities to imagine that doe

at the back of the room, how she
escaped the woods
to be here with you. How none

of you thought to bring a gun
to school. How your teacher believed
you could write a poem to her.
"For the Poet Who Is Your High School English Teacher" by Gary Margolis from MUSEUM OF ISLANDS: NEW AND SELECTED POEMS © 2020, Gary Margolis. Used by permission of Bauhan Publishing.