October 31, 2023
988: Hillwood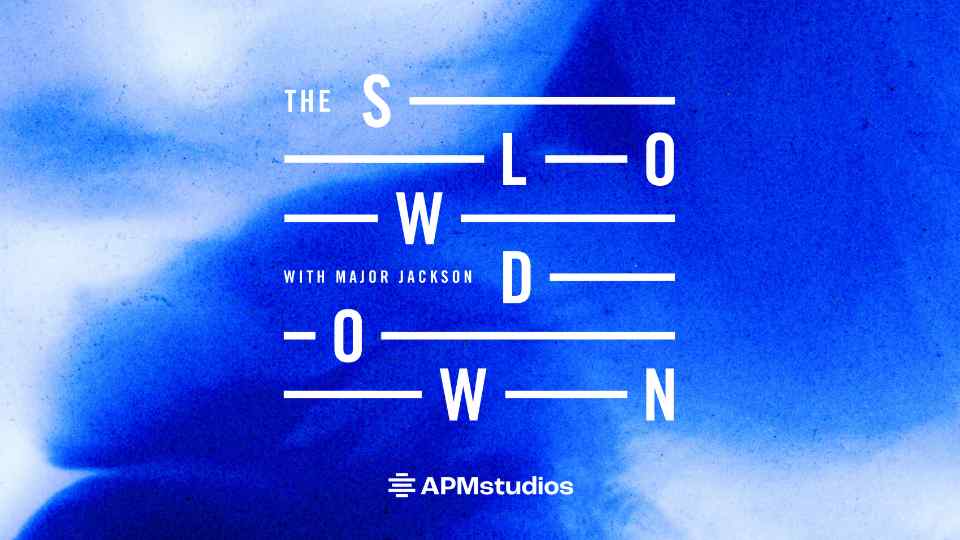 October 31, 2023
988: Hillwood
Transcript
I'm Major Jackson and this is The Slowdown.
Camping in a tent on the banks of Island Pond, beneath the rich darkness of a night sky, my pre-teen stepson Dylan heard for the first time the long mournful wail of the loon.
What was that? he loudly whispered. I refrained from answering, wanting the eeriness to echo without disruption across the waters and into the air. If I remember correctly, Dylan wasn't keen on camping that night. The loon made its cry again. Please! What was that? This time I heard fright in his voice. A native son of a Floridian exurb, he'd never experienced the shivering pleasures of deep listening to night creatures in the great outdoors of Vermont.
The loon's haunting cry is the kind of sound that sends me on a journey inward. It gets in my bones and makes me wonder, before falling asleep, about the darkness that plagues humankind. Maybe the survival gene kicks in, but suddenly, for a moment, the other noises of the night seem amplified: the crunch of twigs and leaves, something slithering, silence itself. I think I even hear the stars blinking, dew forming over leaf litter and downed trees decomposing on the forest floor.
When I awoke the next morning, I greeted the light – the dawning of a new day – with even more fervor. As did Dylan, who exclaimed, "I survived!" What he survived were his own fears.
Today's poem calls us to the sounds of the earth and its creatures, where the imagination takes over as we doze off. Mind and body are primed for that somnambulant journey that is the unconscious.
---
Hillwood
by Mark Jarman
That winter we could hear the hillside breathing
below our bedroom window every night, 
a heavy shaggy exhale with no inhale
as if a thing were breathing from its roots
and came to breathe the night away against
the outer clapboards, where in summer, wasps
hovered with dangling grass stem cargos to lodge.
It wasn't a hive's mind at work, but I'm not sure,
and it was winter and the hill leaned like a bear
and huffed, that's right, huffed against the wall
right underneath our bedroom window until dawn.
We stopped noticing until it also stopped.
And there were nights when we turned out our lights
when the breathing did not start again; we waited 
and fell asleep to each other's resting breathing.
Too big to be a raccoon or a possum, but not
to be a doe in a safe place among the japonica.
And I have thought perhaps it was a sign 
the mind gives of what's to come in dreams,
this being a kind of vigilance. When it was gone,
we missed it but soon stopped missing or giving it
shape, that bear which never showed itself by day,
that coyote or pregnant doe or exhausted vagrant,
creatures of the night, so imaginable 
that you wouldn't want to find out what they were, 
depriving you forever afterwards 
of that peace of mind you need when you drop off.
"Hillwood" by Mark Jarman from ZENO'S ETERNITY © 2023, Mark Jarman. Used by permission of Paul Dry Books.